Resistant



Skill Type

Passive

Rareness

Rare

Description

Blows don't do more than 1/5th damage of your total health.
Resistant is a Passive Skill in MyBrute. With Resistant your brute can't lose more than 1/5 (20%) of your total health in one hit. For example if you get 80 health, you only suffer 16 damage from a hit that would normaly do more. The brute flashes yellow when this happens.
In Game Text
Edit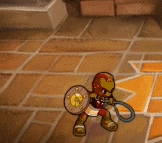 "It takes your opponents endless blows to knock you out. It takes at least 5 blows before you feel anything"
Other languages
Edit
Main article: Language
Language

Name

French
Increvable
German
Resistenz
Spanish
Inagotable
Continue Reading
Edit
Ad blocker interference detected!
Wikia is a free-to-use site that makes money from advertising. We have a modified experience for viewers using ad blockers

Wikia is not accessible if you've made further modifications. Remove the custom ad blocker rule(s) and the page will load as expected.