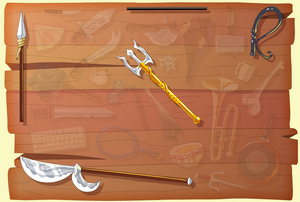 Long weapons
are a type of
weapon
in MyBrute. They are characterized by their high
Counter Rate
, and in most cases, their
Disarm Rate
.
These weapons take the most advantage of 6th Sense, making Counter Rate it's priority in both offense and defense. Shock and Sabotage are also easily combined with these weapons, since it takes advantage of their high Counter Rate and decent Combo Rate to empty the opponent's inventory quickly.
Long weapons are weak to Iron Head due to their high number of hits, much like Fast weapons. They are also easily blocked with Shield and when combined with Counter-Attack can really make Long weapons vulnerable.
List of Long weapons
Edit
There are 5 weapons in this category, they are:
Continue Reading
Edit
Ad blocker interference detected!
Wikia is a free-to-use site that makes money from advertising. We have a modified experience for viewers using ad blockers

Wikia is not accessible if you've made further modifications. Remove the custom ad blocker rule(s) and the page will load as expected.