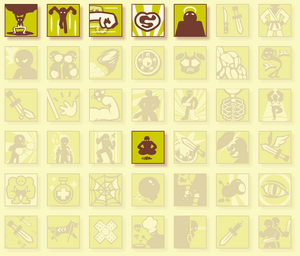 Stat Boosters
are
skills
that boost your current main stats. They also boost every future boost of the corresponding stat by a certain amount.
Main boosters
Edit
Four of these skills are classified as Main boosters. These boosters add +3 of the corresponding stat and then additional +50% (rounded down). Afterwards, additional stat offers will also have the extra +50% whenever taken.
A brute can obtain up to three of these boosters and can have any combination of them, but once the third booster is obtained, that brute won't be offered the fourth booster.
The main boosters are:
Double-edged boosters
Edit
The other two boosters increases the corresponding stat by a larger amount than main boosters but come with a negative effect to level things out.
The double-edged boosters are:
Continue Reading
Edit
Ad blocker interference detected!
Wikia is a free-to-use site that makes money from advertising. We have a modified experience for viewers using ad blockers

Wikia is not accessible if you've made further modifications. Remove the custom ad blocker rule(s) and the page will load as expected.